Since we run fibre directly to your suite, there needs to be a device that supports this. Our fibre router (Zhone) converts the optical signal on the glass fibre into an electrical signal that runs over standard Ethernet copper cabling so you can plug it into a computer, or WiFi access point.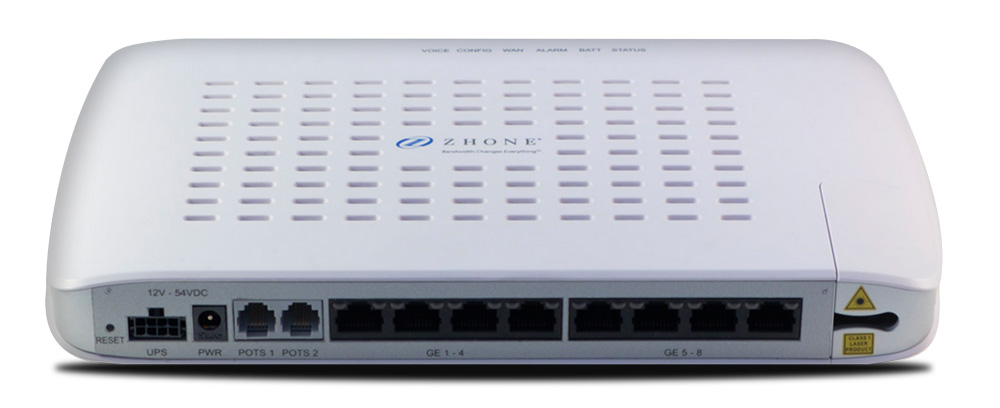 Why use a Zhone ZNID Router
Beanfield offers a 4-port version of this router. This is not a modem. A "modem" is a term typically associated with old school service delivered over coax TV cable, or over old copper phone wiring.
As you've no doubt read on the previous page, we made the business decision to separate the WiFi from the router. In our model, with the router located centrally where all of the Ethernet cabling in your unit runs, it's easy to "light up" all the Ethernet jacks in your unit. It's better to hardwire a device if possible, and not use it over WiFi. Any devices that are not mobile, (TV boxes, music systems, storage devices, etc.) should ideally be hardwired if possible. It will make your life a hundred times better. The effort is worth it - trust us..
If you need additional Ethernet cables in your unit, or if you need old coax outlets converted to Ethernet, we will gladly do so at no charge during our installation.
In an effort to simplify the customer experience and enhance our ability to provide technical support, we built a custom Portal to manage your router. Our portal is full featured so you can:
Change your internal Subnet
Turn on or off the DHCP Server
Change the DNS servers that are given out to your devices
Setup Port Forwards
Add Firewall rules
Look at UPnP Forwarding
View Port status', speeds, and traffic sent/received
View all DHCP Leases
We realize that some people want to do their own Routing
We are able to offer BYOR (Bring Your Own Router) service in some buildings. We're working very hard to be able to deliver it in all of our buildings, which will be ready very soon. You still need to use the Zhone to convert the fibre to copper, however we will place it in Bridge Mode so that it does not participate in any routing functions. Please understand that in BYOR mode, our ability to offer support is very limited.